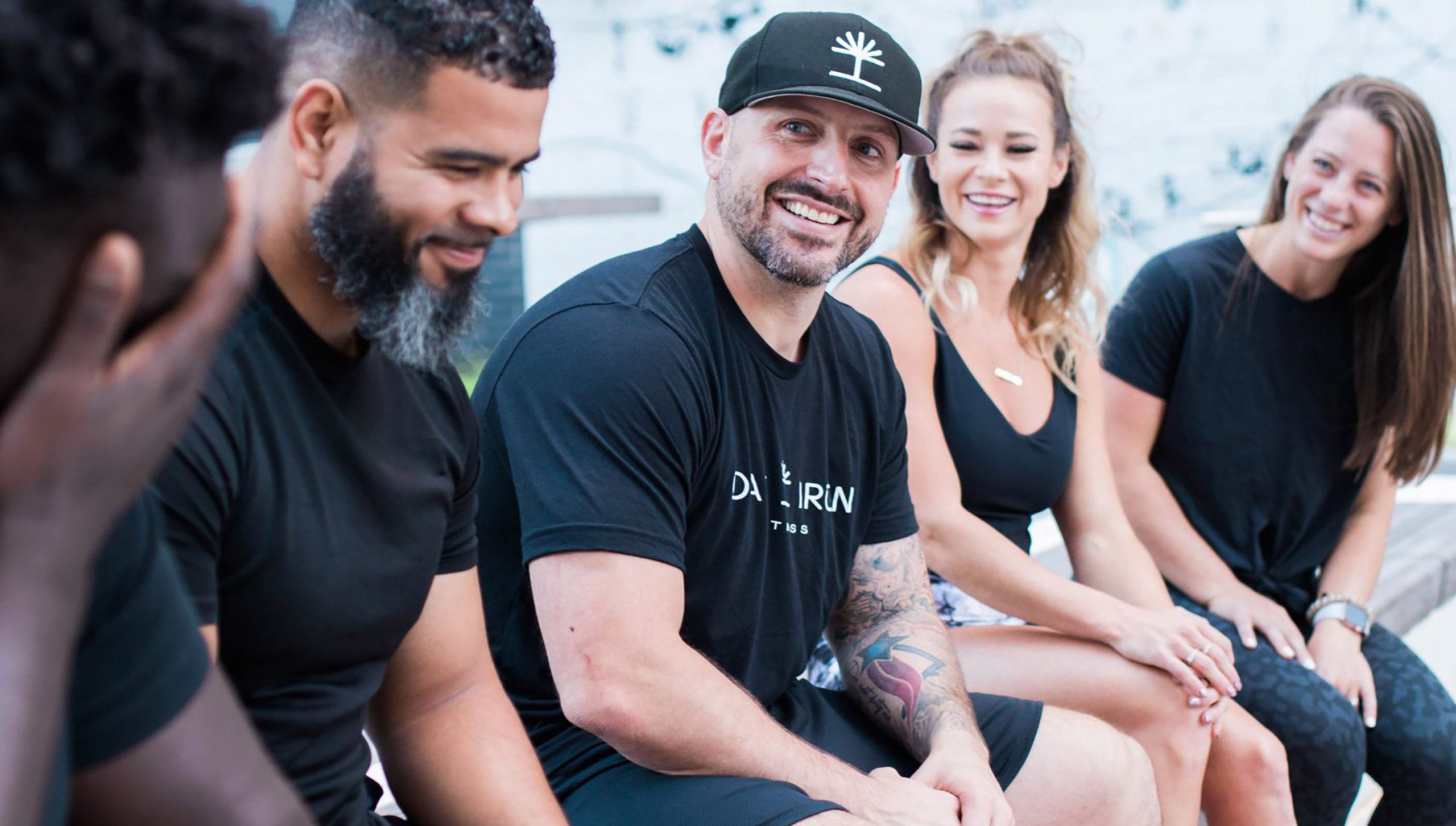 Meet Matt Gulliver – Get to Know the Man Behind Oak and Iron
Recently, Matt Gulliver, the founder of Oak and Iron talked with the team at Canvas Rebel about his personal journey and what kind of community he is creating at O&I. Keep reading to learn more about Matt and what makes O&I special.
Matt, looking forward to hearing all of your stories today. What was it like going from idea to execution? Can you share some of the backstory and some of the major steps or milestones?
I started by putting my ideas on paper. I think many of us have so many ideas in our heads but we're paralyzed by the fear of failure or we're worried about what others think. I started by journaling to help sort my ideas out and I went into this with no expectations – knowing that it wasn't going to be perfect. I think a big step for me was vocalizing my vision to friends, family, and clients. Taking this simple step made it real and it made me want to hold myself accountable. I put my head down and started to read books by other gym owners about how to start a business while continuing to journal each night. I used my network and reached out to friends that had backgrounds in other areas outside of my expertise – IT, human resources, commercial real estate, marketing, and finance, in addition to those who had started their own businesses. I did research on how to write a business plan and used a basic template to start to organize my thoughts paired with all the information I learned through my network. Once I had my business plan in place – I sent it to as many people as I could and I asked them to rip it apart and give me honest feedback. I was encouraged at how much support I had at this point – this gave me the momentum I needed to see this through.
At this point – I started to go see potential spaces and learn more about leasing a space – while also reaching out to banks to learn more about SBA loans and what I would need to qualify.
The pandemic forced us all into quarantine and I knew the world was ready to move again and that people were craving being around people. But I also knew it was still going to be a tough sale for banks considering the economy at the time – with no real clarity as to when it was going to end. Reaching out to banks was very humbling. Many stopped me in my tracks before looking at my business plan or reviewing my financials.
Another big piece was forming a team. I knew I had my sister, whom I previously worked with but I needed to build a roster of enthusiastic trainers who believed in my vision. I started to spread the word and scanned Instagram to recruit a team. I pitched my idea to people that I thought aligned with my core values. My search was focused on finding great people with the right mindset – I knew with the right mindset and a willingness to learn – I could teach them to be great coaches. This was a hard step – people were apprehensive to make any big changes in their lives with so much uncertainty going on in the world. Not to mention, at this point – everything I had was just a vision and a dream on paper. I couldn't make any guarantees – I could only show people the type of person I was.
The stars started to align when a bank reached back out to me and wanted to learn more. I had narrowed down my search to six people. I started to spend time with each of them, in the gym and socially to see if we'd be a good fit.
When starting a business there are so many moving parts and you quickly learn that it's imperative to have a plan for delegating your time. Simultaneously I was doing mobile personal training 6+ hours a day, refining my business plan, sorting out logistics and finances, recruiting a team, meeting with the bank and gathering all necessary information – and looking for a space!
It was no longer just an idea…
This is when I started to fully understand the concept of the 'journey is the way' – I was already running my own business – that was the goal – I was living my dream at the moment.
Awesome – so before we get into the rest of our questions, can you briefly introduce yourself to our readers.
When I reflect on my past, I'm grateful for my path – this includes past occupations and relationships. These are all necessary steps in our process of growth. I can directly attribute many of my accomplishments and success today to the lessons learned at each of these stops. Part of loving who we are today is accepting our past and that includes decisions we made.
I work to be someone who is intentionally evolving, physically, mentally, emotionally, and spiritually. As I've gotten older, I've realized days come and go so quickly, so growth and being present are so important.
I've been interested in the human body and performance from an early age. As I've matured – so has my perspective and the reasons for my interest. Earlier on, my interest was centered around sports performance. Once sports became a distant memory, it was centered around a combination of vanity and competitiveness. When I started to better understand my ego – the focus not only became on longevity and quality of life, but on sharing it with others.
My first job out of college was at Enterprise Rent-a-car. The competitive atmosphere brought the best out of me. Mentally and physically this job was exhausting, the hours were long, and the pay was meager. I quickly moved up the corporate ladder and was in charge of the largest inner-city branch in the state. Running my own branch gave me some of the most useful tools in understanding the concepts of running a successful and profitable business. Admittedly – in the moment – this was my least favorite job. However, looking back I'm thankful for the experiences I gained and the relationships I made. I am still friends with many of the people that crossed my path at Enterprise.
After 5+ years of working at Enterprise, I moved into an inside sales role at iContact – an email and social media marketing company. The job had a totally different set of demands – the pay was much better and the hours were much less demanding. BUT as my time freed up, I became more aware of my lack of fulfillment. This was a strict sales job – I gained experience in the importance of following through and accountability, while my performance directly impacted my take-home pay. I was able to learn about the strategies that can be used to help small businesses grow with a successful marketing plan. These lessons paid off in the long hall and still have a major impact on how I'm able to market my own business.
By working less hours I was able to pursue my passions on the side. My degree was in Physical Education, Health & Nutrition – but outside of student teaching and staying active after college I hadn't put my degree to use. I became certified and started to train friends on the side. I found joy in working with others, and slowly started spending more and more time in the gym. I led a daily workout on-site for the sales team at iContact, then would leave work to train others. This eventually led me to start teaching group fitness classes. I loved the energy and it reminded me of the sports environment I had played my whole life.
As I gained more experience and confidence, I eventually decided to take a leap of faith and leave the corporate world and join the fitness industry full-time. I managed a boutique fitness studio in downtown Raleigh for five years before making the decision to start my own business.
My journey and every step helped me form my personal philosophy and approach to fitness – which led to the creation of Oak and Iron Fitness. I wanted to create a community that was diverse, welcoming to all, and uplifting. I believe movement and exercise can be mentally stimulating and fun while still being effective. But exercise is also challenging and it can be hard for newcomers to find motivation, and on the flip side it can easily become stagnant and boring for more experienced athletes. There is a place for fun and creativity when building a program – but it's imperative that it's built to get your clients results and most importantly keep them injury free.
We help people continually progress by building a program with intention and purpose. We meet people where they are and make each workout customizable with optional regressions or progressions to make each workout achievable. While we offer a variety of services centered about fitness and nutrition, what separates us from other gyms is we have an entire community in place to hold people accountable. We have trainers that are great coaches, and we truly care about the people we serve.
I am most proud of the growth of my team. They say "your vibe attracts your tribe". We have quickly built a diverse and uplifting community that is supportive and welcoming to new faces. Each member of the team has grown immensely since we opened our doors. We have weekly meetings where we focus on a variety of topics designed to facilitate the development of each of us as individuals while learning to work as a team. The culture that we have built is centered around candid relationships and mutual respect. We challenge one another and expect the best from each other.
At Oak and Iron Fitness we look at wellness as divided into seven dimensions that each require equal attention. We want our brand to be synonymous with balance. While the primary focus of our gym is around exercise, nutrition, and community – we promote and encourage emphasis on each dimension through personal work, activities and events.
The 7 dimensions of wellness are:
Social Wellness
Emotional Wellness
Spiritual Wellness
Environmental Wellness
Occupational Wellness
Intellectual Wellness
Physical Wellness
The main thing we want prospective clients to know about us is that our programs are designed to take into consideration the challenges we all face in our daily lives along with the demands of our careers and family. By promoting balance and displaying empathy, we encourage our clients to create a routine that is sustainable and realistic for them. Our mission is to help support them through that journey.
What's been the most effective strategy for growing your clientele?
Retention is the KEY to growth. It's impossible to grow if you have high turnover. Putting too much emphasis on growth and neglecting your current paying clients results in attrition and a rotating door of customers. We aim for stability and consistency. We make our clients feel seen and heard. We hold them accountable, keep them safe, and help them achieve results. By making our clients feel valued – we in turn – have created the greatest future lead source. By creating a consistent product, surrounding yourself with a great team, and trusting the systems we have in place we have been able to scale from the ground up.
Do you have any insights you can share related to maintaining high team morale?
My favorite part of running a business is managing my team. In order to keep high morale, there are several things that I believe must exist in your organization.
Mutual respect. It's important that both parties (employer and employees) know this is a partnership.
Expectations have to be clear.
You can always offer guidance and support but you have to allow room for individuals to grow through their own experiences.
The environment must welcome and promote candid feedback – where it's given and taken with trust that both parties' best interest is in mind.
Balance. At the end of the day, this is a job. Personal happiness and family will always come first.
Allow space for creativity.
Have systems in place to reward results.
Have fun.
Spend time with your team. Have regularly scheduled times to meet with staff and listen to them.
Transparency. Let your team understand the big picture and share the successes of the business.
At Oak and Iron Fitness, our culture is a huge part of our success. Making your team a priority is making your business a priority. By investing in each individual – you are investing in long-term success. Most importantly – as the leader of your team – you have to live and breathe the culture that you encourage. I make sure that I am not too big for any task, that my work ethic is on display, that I have balance in my own life, and that I lead by example.
A saw a quote recently that said "Make your team so strong that no one knows who the leader is." Everyone on my team knows that I support them and am honored to be a part of their journey.