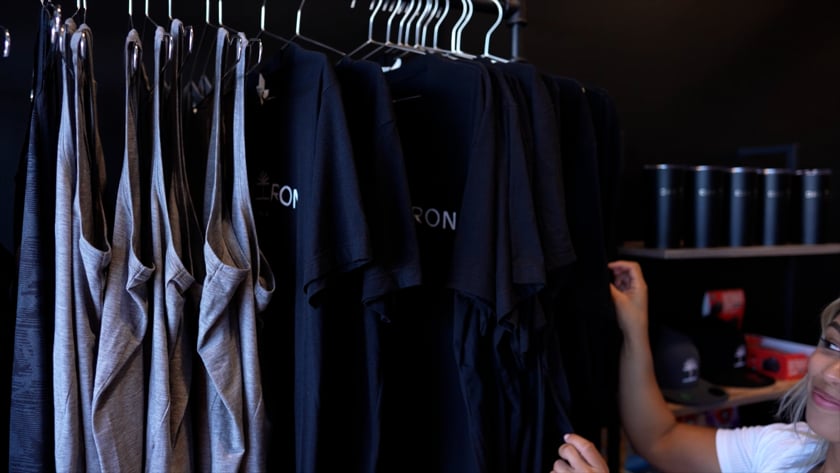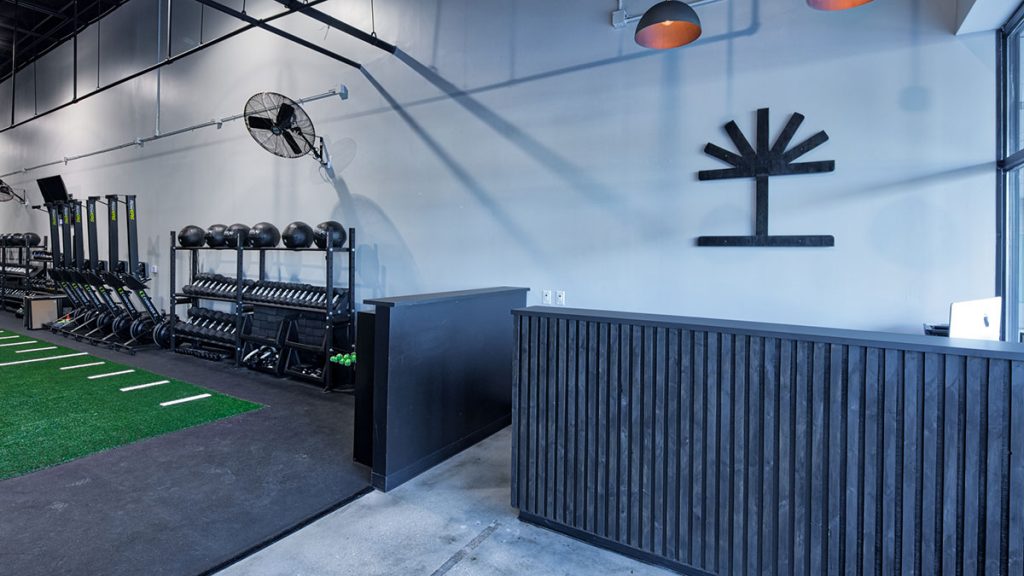 Right when you walk through the door at Oak and Iron Fitness, you will be greeted at the front desk by one of our staff members. As you scan the lobby, you may notice that there is a small library on the left side. This area of the main room perfectly embodies the spirit and philosophy of Oak and Iron Fitness. Wellness goes beyond physical fitness and we try to encourage members to continue to learn and grow in all areas of their lives. You are free to borrow a book and make your own reading recommendations.

This front area also features a retail space where you can browse through Oak and Iron Fitness merchandise. Our members love our gear and we are constantly adding new items so that you expand your athletic wear wardrobe and help represent our fitness center.

We also provide free towel service and there are cleaning supplies around the main room if you want to wipe down equipment as you move among different exercises.

The main room offers a modern facility that is fully stocked with all the equipment you could want. From racks and dumbbells to kettlebells and cardio equipment, we will take advantage of all the tools you need to master fundamental movements and build strength and endurance. We have also taken care to install the absolute highest quality performance floor and 20 yards of athletic turf, which is perfect for all the sled pushes, plyometrics, and other exercises you will be doing.

What you won't see in the main room are walls of mirrors. We want to eliminate distractions so that you can be present and focus on the exercises. That is why "Wherever you are, be there" is painted on the wall above the entrance. For 50 minutes, you can block out distractions and work on improving your own wellness.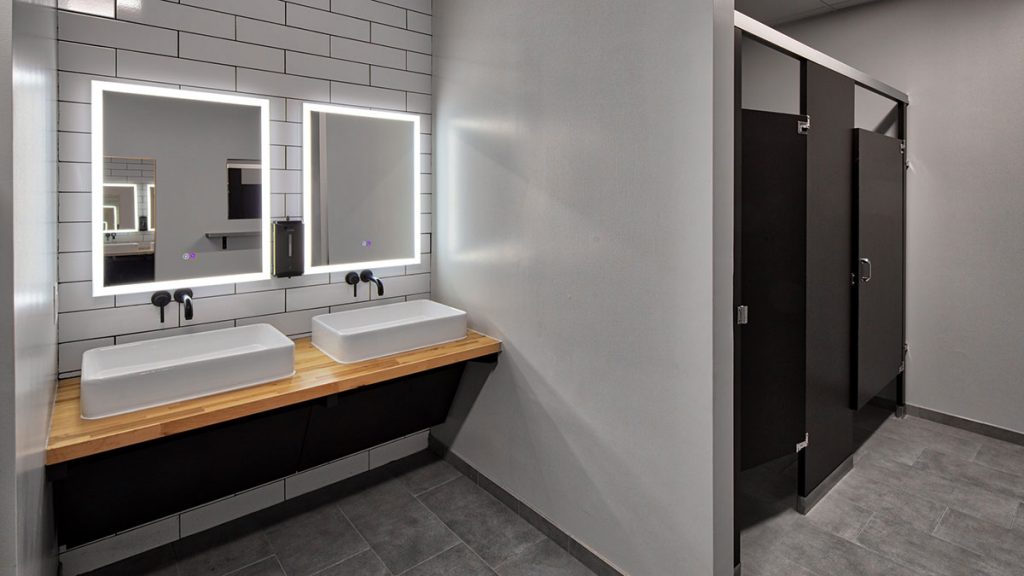 Many of our members are working professionals with kids. This means that they have to squeeze time for a workout into a busy schedule. With this in mind, we made sure that our bathrooms come with all the amenities you will need to get ready before and after your workout.

You can take advantage of the showers and dressing areas and securely store any items in the lockers. We take care to always maintain the restrooms so that you can enjoy a clean and convenient restroom and locker area. There are plenty of towels, soaps, shampoos, and other hygiene products available if you need them.

We also made sure to install drinking fountains that include a water bottle refill station. Hopefully, this will help everyone cut down on using plastic water bottles and provide another convenient amenity to make your experience that much better.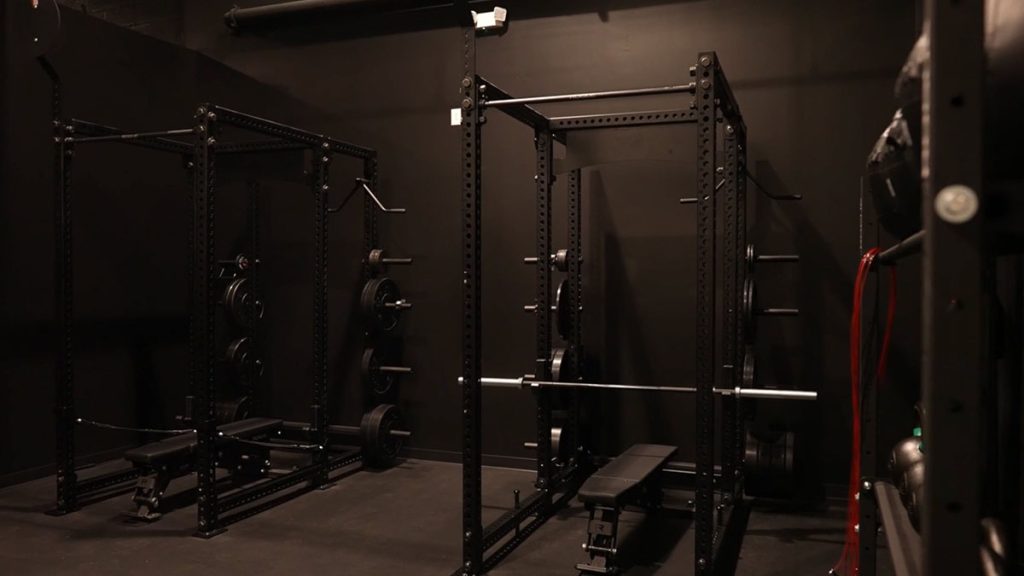 Semi-Private Training Room
Personal training sessions are held in a semi-private space at the back of the main room. This area features all the equipment you will find in the main room and provides you with a great space to meet and work one-on-one with your trainer.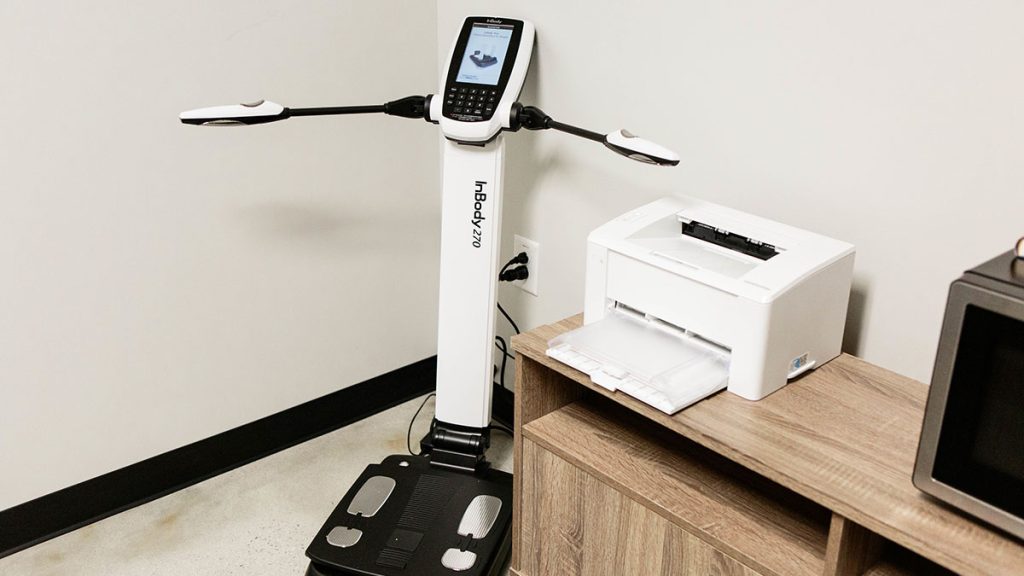 If you really want to make serious improvements to your physical wellness and track your progress, we recommend taking advantage of our body composition measurements. This will allow you to gain a better understanding of where you are currently and provide you with detailed data on where you have been able to make improvements. The data is also a good reference for our trainers as they work to design customized programs for your and your goals. The body recomposition room is a private area where you can meet with a trainer, quickly take measurements and discuss goals.
Latest blog posts
Follow us for the best in tips and tricks to finding a healthier you!
Alonzo, or Zo, as we tend to call him, is a quiet

Oak and Iron is excited to be hosting Acorns and Iron 2023-

For the last twelve years, I have toured the world as the
feel free to ask anything
We're here to answer your questions on all things fitness. It's all about the journey, not the destination.