STRUCTURED SYSTEM TO PROMOTE PROGRESS
Everything from individual sessions to weekly schedules has been designed to work together to form a structured, science-based approach to strength and conditioning that promotes ongoing progress. We help you find the right balance between intensity, frequency, mobility, and recovery so that you can consistently move closer to reaching your goals.
We focus on the fundamentals and believe people should first move well, then move often. Each workout begins with a warm-up and mobility exercises that are designed to prime your muscles and joints for the work ahead. This approach helps to minimize injuries and provides a more effective workout.
Whether you are new to the movements or you have performed them a thousand times, there is always room for improvement. You can feel comfortable and confident knowing that our coaches will provide plenty of instruction and work closely with you to ensure proper form to keep you healthy and safe. 
Even the most seasoned athletes can develop habits that draw engagement away from targeted muscle groups and inhibit progress. With the right supervision and coaching, you can correct and perfect your form for better results. Even if you have never stepped foot in a fitness center, you will receive all the guidance you need to master fundamental movements and work towards your goals.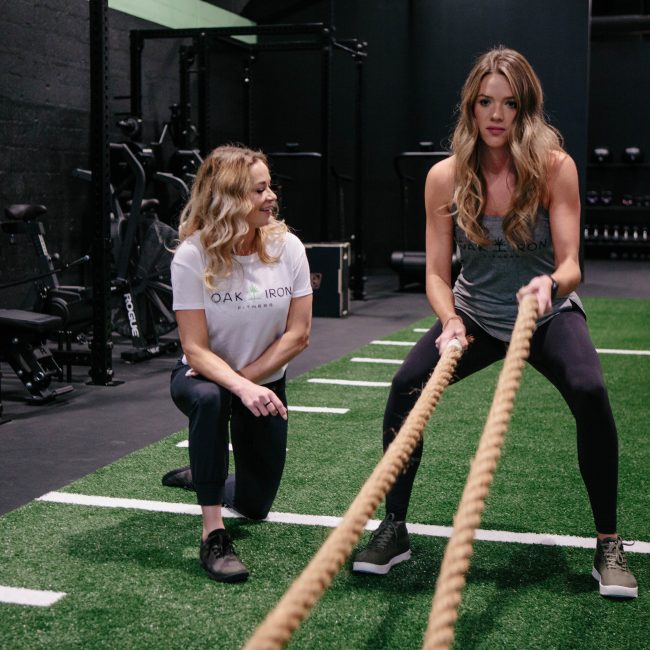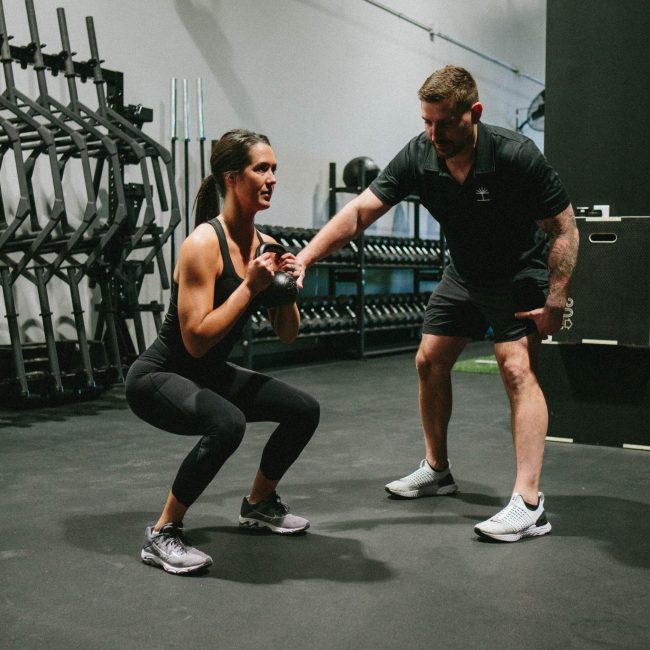 Build Strength, Endurance, and Power
Understandably, many people are interested in building muscle and losing fat. Ultimately, this requires consistent strength training. At Oak and Iron Fitness, we provide a structured program that focuses on building strength, improving endurance, and becoming more explosive. By following this program, you will continue to see improvements across all areas of your fitness. 
As you look at the weekly schedule of classes, you will notice that everyday has a different focus. By moving among Life, Steady, Drive, and Shape classes, you can take advantage of a full-body program that balances strength training, high-energy cardio, and conditioning. The program is already laid out for you. All you have to do is show up and give it your best.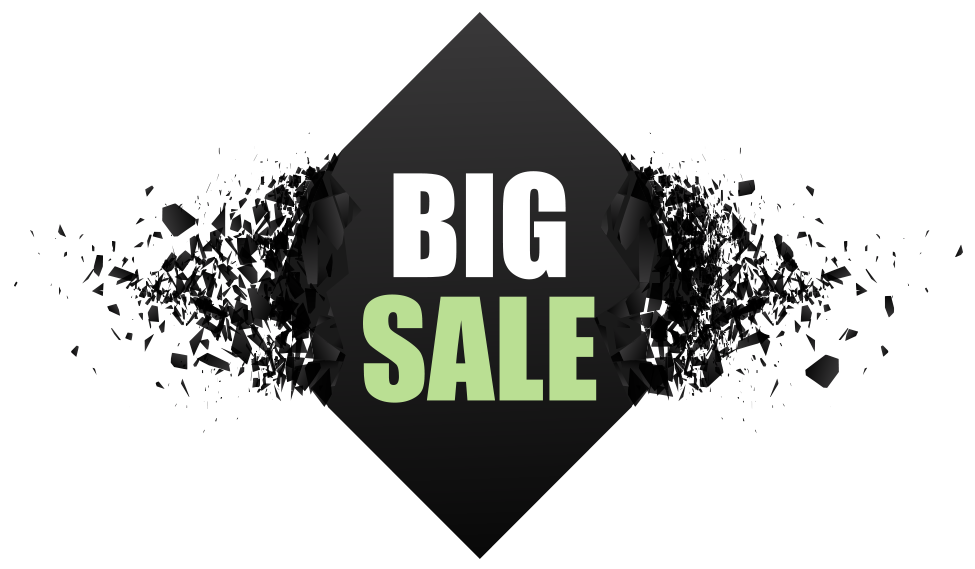 ONE MONTH UNLIMITED - $99
ELITE MEMBERSHIP
LIMITED TIME 3-PACK - $30
for 3 Group Sessions
Enjoy a Personalized Approach
At Oak and Iron Fitness we will work closely with everyone to develop a personalized plan that helps you embrace your potential and pursue the best version of yourself. Group classes are purposefully capped at a certain number so that coaches can assist everyone as they go through the day's challenges.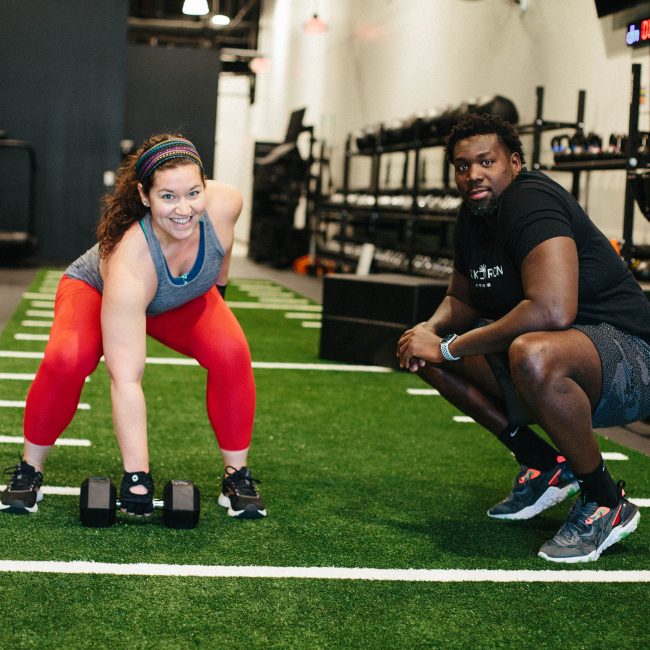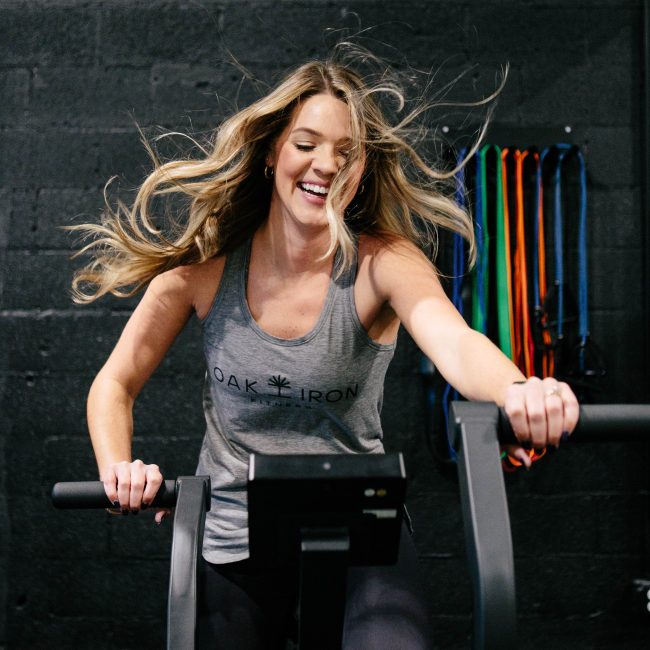 Ultimately, wellness is a full integration of physical, mental, and spiritual well-being. Growth and balance between each of the seven dimensions are essential.
Physical

Emotional

Intellectual

Social

Spiritual

Environmental

Occupational
The complex interaction of these different dimensions directly relates to your quality of life and overall well-being. That is why "fitness" is about much more than exercise. By working to help you enhance all the facets of your life, we have created an environment and community that is much more than a gym.
In addition to enjoying a deliberately designed program that will continually provide new challenges, you will also become part of a vibrant and engaged community of warm and welcoming people. You can take advantage of the Oak and Iron library, participate in organized charity events, and get to know the rest of the community through social and educational events. 
With the help of the Oak and Iron Fitness coaches and community, you can take positive steps towards nurturing the essential dimensions that contribute to overall health and wellness. You can approach fitness with a sense of purpose and feel confident that you will have the support and guidance you need to navigate new territories and achieve true progress.
NO Sweat

Free

Intro Session
Tour the facility to learn more about some of our exclusive amenities and see our new fitness equipment. Hop on our InBody for FREE weigh-in to see a visual representation of your current body composition measurements & fitness level. We will review your results and help you create a custom Fitness Prescription based on your specific goals & needs.
Latest blog posts
Follow us for the best in tips and tricks to finding a healthier you!
Alonzo, or Zo, as we tend to call him, is a quiet

Oak and Iron is excited to be hosting Acorns and Iron 2023-

For the last twelve years, I have toured the world as the
feel free to ask anything
We're here to answer your questions on all things fitness. It's all about the journey, not the destination.