Hello, I'm Cheri Armour Samples
Cheri moved to Raleigh for grad school and never looked back! Her interest in group fitness was sparked when a friend invited her to a Zumba class at the local Y. She started teaching Zumba and dance fitness while still in grad school. Now, in addition to being one of our fitness coaches, she is on the people team at a tech company, and mom to two kids! Cheri's reason for loving fitness: "When I move my body, I feel the closest to being my 100% authentic self than any other time. I feel 100% confident when I'm moving. I'm really not sure if there's any other area in my life where I feel so myself. It drove my teachers and parents nuts to have a child that constantly needed to be moving around, but it makes sense now." She is a firm believer that fitness is for everybody! Cheri does it all- sign up for one of her classes to experience the great energy she brings to every room!
Current certifications: AFAA Group Exercise, my 200-hour yoga certification, my Schwinn cycling certification and I have my Zumba license.
"And even if I bomb and they say terrible things about me, people will laugh at me, and I'll get paid anyway. In the worst case, I get paid to make people laugh!" — Tiffany Haddish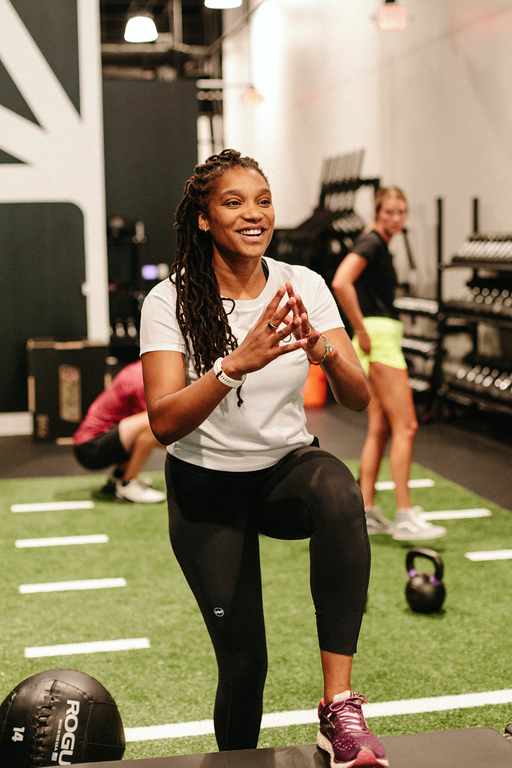 NO Sweat

Free

Intro Session
Tour the facility to learn more about some of our exclusive amenities and see our new fitness equipment. Hop on our InBody for FREE weigh-in to see a visual representation of your current body composition measurements & fitness level. We will review your results and help you create a custom Fitness Prescription based on your specific goals & needs.
feel free to ask anything
We're here to answer your questions on all things fitness. It's all about the journey, not the destination.